Ancient Future Times: News from Alternate Universes
Future Ancient News from an Alt-Left Universe
•President-Elect Sanders Proposes US Musical Ambassador to the United Nations
Indo Latin Jazz Live In Concert CD Release Celebrations
•Alt-Left Universe Shows at Freight & Salvage 1/22, Don Quixote's 1/29, Occidental Center for the Arts 2/4
Meanwhile in the Alternate Reality of Eleven Nine
•World Fusion Musician Awakes in a Polarized Tribalized World
Education in an Alternate Reality
•Study World Music in the Virtual and Real Worlds
---
In Honor of the Current Trend Towards Fact-Check-Free News, Ancient Future Presents
Future Ancient News from an Alt-Left Universe
President-Elect Sanders Proposes US Musical Ambassador to the United Nations
WASHINGTON (Ancient Future Press). President-elect Bernie Sanders today announced his intention to create a new cabinet-level position: United States Musical Ambassador to the United Nations.
A Sanders Transition Team internal memo marked as "for discussion purposes only" has been obtained which states that the idea came to Sanders after hearing some music by the band Ancient Future, the first and longest running musical organization dedicated exclusively to the mission of creating world fusion music. The memo states that in cases of international conflict, it will be the duty of the USMAUN to employ Ancient Future to facilitate jam sessions between musicians from the countries involved.
The Senate confirmation process can begin when Congress convenes on Jan. 3, two weeks before Sander's inauguration on Jan. 20, 2017. Due to the new Green/Democratic coalition majority in the Senate that was swept in on Sanders's coattails, it is widely believed that Ancient Future's upcoming Feb. 11 anniversary concert is likely to become a celebration of more than just the band's 38 years of cross-cultural collaboration.
Ancient Future Performs at Trinity Chapel on 38th Anniversary of the First Ancient Future Concert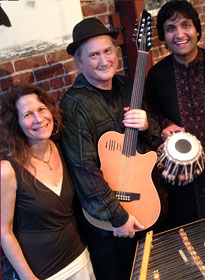 Featuring World Guitar Pioneer Matthew Montfort, Tabla Virtuoso Vishal Nagar, and Pianist/Santurist Mariah Parker
Exactly 38 years after their first concert on Feb. 11, 1979, at the Sleeping Lady Cafe in Fairfax, California, Ancient Future will perform in Berkeley as part of the Trinity Chamber Concert Series. With President-elect Sanders's proposed new duties for Ancient Future at the United Nations, reservations are strongly encouraged for those who want to be part of what could be an historic celebration for world fusion music.
Saturday, Feb. 11, 2017, 8 PM
Trinity Chamber Concerts
Trinity Chapel
2320 Dana Street between Bancroft Way & Durant Avenue
Berkeley, CA 94704
Tix: $20 general, $15 senior/disabled/student. No one will be turned away for lack of funds, but with the new Guaranteed Income Act that is expected to pass in Sanders's first week in office, funds for the concert shouldn't be a problem for anyone.
Info and reservations: 510-778-1719 or email info@trinitychamberconcerts.com. Press Release. Facebook Event.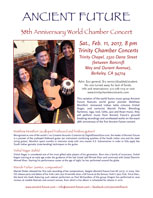 (Read more alt-left universe news from an ancient future to believe in.)
---
Indo Latin Jazz Live In Concert CD Release Celebrations
Alt-Left Universe Shows at Freight & Salvage 1/22, Don Quixote's 1/29, Occidental Center for the Arts 2/4
Indo Latin Jazz Live In Concert by Mariah Parker (Ancient-Future.Com AF-20142).
To be released the day of Bernie's inauguration, Jan. 20, 2017, Indo Latin Jazz Live in Concert captures the magic of the concert debut of Mariah Parker's Indo Latin Jazz Ensemble in front of a full house at Yoshi's in Oakland, as well as subsequent concerts at Berkeley's Freight & Salvage, the Throckmorton Theater in Mill Valley, and Bob Weir's TRI Studios in San Rafael. It is the perfect party music to feel the Bern! Plus, two days after Bernie becomes president, Mariah Parker's CD release tour starts at the Freight & Salvage.
Sunday, Jan. 22, 2017, 7 PM
Mariah Parker's Indo Latin Jazz CD Release Concert
Freight & Salvage
2020 Addison Street
Berkeley, CA 94704
Tix: $24 adv., $28 door. Purchase tickets.
Info: Call 510-644-2020 or email info@freightandsalvage.org
Sunday, Jan. 29, 2017, 7 PM
Mariah Parker's Indo Latin Jazz CD Release Concert
Don Quixote's International Music Hall
6275 Highway 9
Felton, CA 95018
Info: 831-603-2294 or email info@donquixotesmusic.info
Saturday, Feb. 4, 2017, 8 PM
Mariah Parker's Indo Latin Jazz CD Release Concert
Occidental Center for the Arts
3850 Doris Murphy Ct. (Bohemian Hwy. at Graton Rd.)
Occidental CA 95465
Tix: $20 general. Purchase tickets.
Info: 707-874-9392 or email info@occidentalcenterforthearts.org
---
Meanwhile in the Alternate Reality of Eleven Nine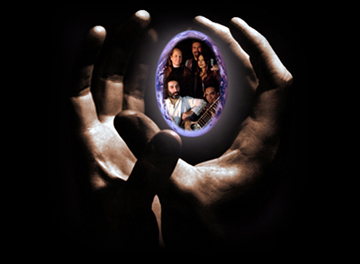 World Fusion Musician Awakes in a Polarized Tribalized World
He awoke at nine eleven on eleven nine. Eleven nine. Did he just wake up in an alternate reality? Was that a dream, or did a New York billionaire real estate mogul turned reality TV star convince just enough rural working class voters that he was on their side to win the Electoral College? Did political polarization result in a descent into tribalism and the elevation of fear-based feelings over facts? Did voters believe that immigrants were to blame for lost jobs rather than tech disruption, automation, outsourcing, union busting, and the failure to invest in education? And will a man with no political experience be the commander-in-chief of the world's largest military as countries around the world are splitting into ethnic factions?
Nine eleven. He remembered teaching music that day 15 years earlier, and saying that he feared the likely reaction of the US more than he feared another terrorist attack. How prophetic that turned out to be. He remembered that before nine eleven, he was able to perform music with Arabic or Indian influences at state fairs for crowds more used to rodeos and country music, and turn them on to music from other cultures by including familiar elements from American music. After nine eleven, a lot of folks grew fearful of anything foreign, so it became much more difficult to reach them. Funding for the military expanded, as did destabilizing wars, while arts and education were severely cut. They never recovered.
Eleven nine. He turned on the TV, expecting the stock market to have crashed as forecast by the market elites afraid of the unpredictability of a reality TV star. But in this alternate universe Wall Street suddenly forgot all of that and was in party mode over the possibility of tax cuts for the rich, repealing financial regulations, and running up the deficit with military spending.
That night he performed with Mariah Parker's Indo Latin Jazz Ensemble at a post election party that had become a wake. First they played soft and uplifting music while the conversations of gloom echoed about the room, and then slowly turned up the heat until everyone was dancing at the end. The whole experience made everyone feel better, not about the outcome of the election, but about how to deal with the darkness that resulted to create conditions for the return of light in the future.
In the days that followed, while many of his friends were walking around in a state of denial, he started to exhibit signs of Stockholm syndrome and began to hope that since this reality TV star had changed his mind almost daily on many issues that perhaps there would be some moderation of positions. But those hopes were dashed as tweets were unleashed and cabinet choices rolled out, including a climate change denier to head the EPA. While the new alternate reality seemed bleak, he came back to thinking how sometimes things have to get worse before they can get better. He's been saying that his whole career, but perhaps this time people will wake up and get to work.
For his own part, he made a commitment to do what he can as a musician. It was clear to him that world fusion music will be needed now more than ever in this alternate reality where tribalism is running amuck all over the world and the existence of climate change is denied by the party in power in the world's largest economy. World fusion music can serve as an antidote to polarization. Its mission is to show how ideas from different cultures can work together. Not a genre, it is a process that brings musicians from different traditions together to learn from each other. To an audience, successful world fusion music presents both something exotic and something familiar, and it creates advancements in the art of music that can inspire people to do good things in their own lives.
With enough support, the arts can make a positive difference in how humans behave. But that support is not going to come from elected officials hostile to the idea of arts funding or tech companies that profit off of free artistic content but don't want to pay for it. It will now be up to the people who do believe the arts can help create a better future for humanity to support them directly in whatever ways they can.
Ways to Help Make World Fusion Music Great Again (and Again)
---
Education in an Alternate Reality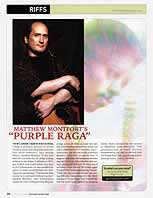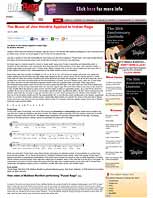 Guitar Player Magazine Feature on Matthew Montfort Plus Online Lesson (1.4 MB pdf).
Study World Music in the Virtual and Real Worlds
Where will the next generation of master musicians come from in this era where music creation is considered something that you do by cutting and pasting loops on a computer? In the USA, some public schools in high property tax districts do still have good instrumental music programs, and children of rich parents who like music have the opportunity to study privately. But for the rest of the populace, studying music is a rarity. Not only are we not prioritizing training the musicians of the future, we aren't creating an educated audience for music. In this alternate reality, it is unlikely that restoring music education to public schools will become a priority anytime soon.
But Ancient Future makes education a priority. The Ancient Future website has a large section devoted to music education, and it is free to learn some of the basics of world music, including African polyrhythms, Balinese gamelan, and Indian raga and tala. And you can sign up for a free subscription to Ancient Future's World Rhythms educational newsletter complete with explanations of musical concepts and exercises to master them.
If you know of someone who could benefit from individualized music lessons, you can give them the gift of learning music. Matthew Montfort offers all styles and levels of guitar (and other plucked instruments such as bass, mandolin, and ukulele) instruction as well as lessons on any of the subjects on the Ancient-Future.Com world music education web site via Skype, and in person in the real world in the San Francisco Bay Area. For further information, visit matthewmontfort.com or send an email to info@ancient-future.com.
Skype Sale

30 Minute Skype Lesson. Normally $50. Sale $36. Buy 1 Now.
45 Minute Skype Lesson. Normally $65. Sale $48. Buy 1 Now.
60 Minute Skype Lesson. Normally $75. Sale $60. Buy 1 Now.
Recommended Training Manual

Ancient Traditions – Future Possibilities: Rhythmic Training Through the Traditions of Africa, Bali and India by Matthew Montfort (Ancient Future Music, 1985. ISBN 0-937879-00-2). Sale $52.95. Buy 1 Now. A must-have for all students of world music, plus there is an additional discount on a Skype lesson with your online purchase at Ancient-Future.Com!